The last month brought a special invite for New York City, getting to meet nearly 100 people @ Mount Sinai Hospital and guest coach at Brunswick high where 40 young athletes train hard daily and only 1 testing blood and taking insulin… but not that day.
We also explored an awesome family adventure destination for the fall and enjoyed some program days like this one at Canada's Wonderland. We presented to hundreds of pharmacists with a custom ICD educational program, invested in our leadership team with a retreat and made huge strides in safety for kids in school. Catch up on more below with ICD!
~ Chris Jarvis, founder ~ I Challenge Diabetes
In November 2017, we posted a story about Maren Turner – a young aspiring ballerina, and her families journey with T1D. HERE is the link to that story, and below is Part 2.
We have made our way through winter and are inching our way through spring. Our excitement and anticipation are building for Maren's summer intensive/audition at Canada's National Ballet school.  The baby steps I spoke of previously are feeling more like leaps now, but leaps in the right direction and leaps that feel really good.
I have to say that I am so beyond grateful to I Challenge Diabetes and President Chris Jarvis for helping us move forward with a clear path.  It seemed like a mountain to climb but Chris has been over a mountain, several times I think, so he knows how to lead the way. Chris just makes it easy and clear to communicate Maren's needs with the school, for her to go in there feeling safe and that she may be successful. We appreciate this so much.
I am also very impressed with NBS and their willingness to learn more about diabetes, emergency care, daily plans for Maren's care and a night plan to ensure her safety. Meal planning and menu updates to help with carb counting etc. Everything we could have hoped for is falling into place. They are committing to helping set Maren up so that she can focus on learning and dancing as will be the focus of everyone else there. We all know she will still have all of the planning, the counting, the bolusing, pod replacements, adjusting for blood sugar highs and lows, but she won't be on her own with it all.
For Maren the opportunity to stay with the other dancers in residence is a dream come true.  She has been in touch through mail with many of her friends from last summer's session and looking forward to reuniting with them and being a part of that special closeness they will share in their residence. "The full experience" I guess you could say.
What more could a girl ask for. Well I guess she could ask to be doing this all without the type 1 diabetes. However, I can honestly say I'm not sure she'd have even had the courage or the drive that she does today if this beast didn't rear its ugly head.  This is part of who Maren is, it's part of how her spirit is growing. She is driven by her love of ballet, the hard work of each ballet class,  the little details she works to improve continuously, the art of the dance.
If you're a parent of a child with type 1 diabetes, you're likely no stranger to jumping through hoops in trying to advocate for your child at school. We recognize that many of these hoops are caused by inconsistent school board policies, as well of a general lack of understanding and training for school staff. This month we want to highlight some individuals who have made some impressive steps in both the TDSB (Toronto Public Schools), and the TCDSB (Toronto Catholic Schools).
TDSB: Brian Bowman and Wade Ivan
These two have come together to lead a delegation which includes ICD, presenting to the Health and Mental Wellbeing Committee of the TDSB. They dove head first into the policy and procedure, and pinpointed various places where these documents fall short of supporting our children and don't measure up to PPM 161. We look forward to this opportunity to demonstrate this need to school Trustee's, and are forever grateful for these two gentlemen and the work they have put into this campaign!
TCDSB: Matt DeAbrea
In partnership with Lisa Geelen (KIS Campaign chair), Matt has helped make incredible strides towards structure and leadership behind a diabetes policy within the TCDSB. Matt, your hard work and passion for this project has gone a long way to drive this campaign forward, and we are incredibly proud to advocate alongside volunteers like you.
It's May, Spring is here and Mother Nature may finally allow you to put away that heavy parka.
Now that is something to celebrate! On that note, let's talk celebration. What does it mean? What should we celebrate? Why should we celebrate?
According to the Merriam Webster dictionary, celebration can be defined as "…mark[ing] (something, such as an anniversary) by festivities or other deviation from routine" (2017). Myself, this month I'll be celebrating 11 years as a healthy T1D as well as one year working as a flight attendant. I will be celebrating these accomplishments by taking a vacation with my oldest sister. For others, celebrations may look different, however it is highly important that we take the time to acknowledge situations in our lives that deserve a cheer.
As I mentioned, I am celebrating one year working as a flight attendant. A flight attendant comes with responsibilities that extend far beyond pouring a Ginger Ale for a passenger on their flight from Toronto to Moncton Airport. In fact, it involves wearing many hats including a firefighter, a first responder, a waste collector, an occasional babysitter, an evacuation specialist, and in general a professional in safety procedures. Qualifications for all these titles in order to be up in the air, one must complete and pass five intense weeks of initial training with several exams. Every anniversary following, you must complete annual recertification training. This involves completing a very tedious workbook, successful completion of two exams, and a full day of safety drills.
BREAKING NEWS:
Toronto Catholic Districts School Board's first ever policy on diabetes in schools is in the works! I Challenge Diabetes has been working alongside families of the TCDSB to put the first official policies in the district. Presentations on the 17th of May will be given by Chris Jarvis, Lisa Geelen, and Matt DeAbrue during the full board meeting. This is a huge step in the community and we look forward to the next meeting.
Toronto District School Board is also on the same track, working to get new diabetes procedure into schools. The board's current procedures allow a wide range of disparity between schools and children. Wade Ivan and Brian Bowman have been working with the board to get these new polices in place. Our goal is for kids in schools to have easier access to low supplies in class, assistance testing and taking insulin at school when needed, a support person to help with supplies for field trips and other events, as well as education on glucagon.
We're so pleased to see all the progress happening with various school boards, and look forward to working with parents and volunteers further as we approach the beginning of next school year and the PPM deadline of September 1, 2018! This project, despite importance and implications on safety, remains one of the most underfunded, and we could use your support to further our mission.
Go see Lisa's Blog for more information on her long journey to get to this point: https://www.coffeesonme.com/t1d-school-board-policy
We're very excited to announce that we've found a MONTHLY MATCHING DONOR who is keen to help our fundraising efforts. This is a great way to double your impact to our community, and help your donations go a little bit further. They are willing to give up to $2000 per month, for the remainder of the year!
A little bit can go a long way in helping us continue to have strong impacts across the community, and this is an easy way to double that impact! $5, $10, $15, with the help of a matching donation, can easily support a participant in one of our day programs, and make a BIG impact on the lives of youth with T1D.
Monthly recurring donors will be highlighted on our website and added to our Diabuddies Club!
Last month, ICD's young leaders spent a weekend in Oshawa, Ontario at Camp Samac to connect with others in the T1D community and further develop their leadership skills. Despite some nasty weather, we had a blast, learned a lot, and made a bunch of new friends along the way!
Another huge THANK YOU to Insulet Canada for your support on this event, kicking off what we are confident will be a long term partnership, serving the community together through new technological advances and education!
More thoughts from the Retreat…
"…Before this event I was a little unmotivated with my diabetes, but Chris and the crew has been able to give me that motivation I need to stay on top of my diabetes. Would recommend this event to everyone with diabetes."
"This weekend meant reconnecting with old friends and making new ones. I had so many people remind me that I always have to do whats best for me. Everyone understood each other and I think thats really life changing."
"This past weekend changed my perspective regarding other quadrants and individuals. I feel I see life in a whole new way because of being surrounded by such positive people really helped me!"
Have you heard about our Diabetes Sports Camp taking place at the world class facilities at York University? We're helping to normalize diabetes, and showing children and families how they can plan diabetes management around sports and exercise! Our experienced leadership team, made up of mentors who live with T1D themselves, will be leading by example and building meaningful opportunities for them to grow within the community!
We'll be facilitating 3, one week long camps in the month of July, including a Leadership option during the first week for the upper age group. These participants will receive a certificate and have the opportunity to participate in the following weeks in a leadership position!
---
ALSO be sure to check out our Upcoming Extreme Adventures:
British Columbia
West Coast Trail – 75km hike through BC's wilderness
Bowron Lakes – Paddle and Portage one of the world's top paddling locations
Alberta
Rockwall Expedition – 55km trail hike just 2 hours outside of Calgary
Ontario
Tobermory Adventure Camp – Hike a portion of the famous Bruce Trail
Charitable Registration Number: 821102712RR0001
WE ARE BACK! Our Newsletter has been gone for a year now as we've been diving into areas in our community that need support. Thanks for your patience and we hope you can understand the challenges we are under. Did you know we get requests for support from T1D families and their athletic pursuits from other countries around the World?
Did you know that our Diabuddies School Tour has not only helped here in Ontario but has drawn attention from various provinces across Canada and even as far away as Isreal too! We've recently connected with "Be Brave", an organization started by Shady Kassis at 21 who believed in himself and wanted to change the stigma and ensure children were supported and safe in schools. He runs a sports camp and a school program to empower youth just like ICD. Stay tuned for more.
Below you will see a little of what we have been up to and get a look ahead. Our BIG ASK is that you think about what can HELP YOU today. Challenge yourself to do it. You may notice a big focus of our organization is activity and nature. There is a lot of research about the importance for both of these for all aspects of anyone's health.
It is even more beneficial for those living with a disease like diabetes to stay active and get outdoors yet our daily management hurdles often amount to too much. These stories are often promoted as the outcomes of diabetes for fundraising objectives but we see them as a stepping stone to greater things. When you learn to overcome these challenges in everyday life, the rest of life becomes more manageable with it. Let's lift each other up to the challenge.
We at ICD could not be more grateful for a key volunteer in our Kids in School campaign. It has been a year now since Lisa Geelen engaged our team, bringing focus to the stagnant state of political discussions around a policy that protects children in schools with diabetes. She not only lead and inspired an action planning committee with stakeholders across Ontario but got her hands dirty with many initiatives including ours, delivering direct support to families.
Lisa has been a model for advocatingfor stronger diabetes policy at the school board level, and her efforts were recently recognized by Diabetes Canada. Lisa will be officially awarded with the Regional Inspiration Award!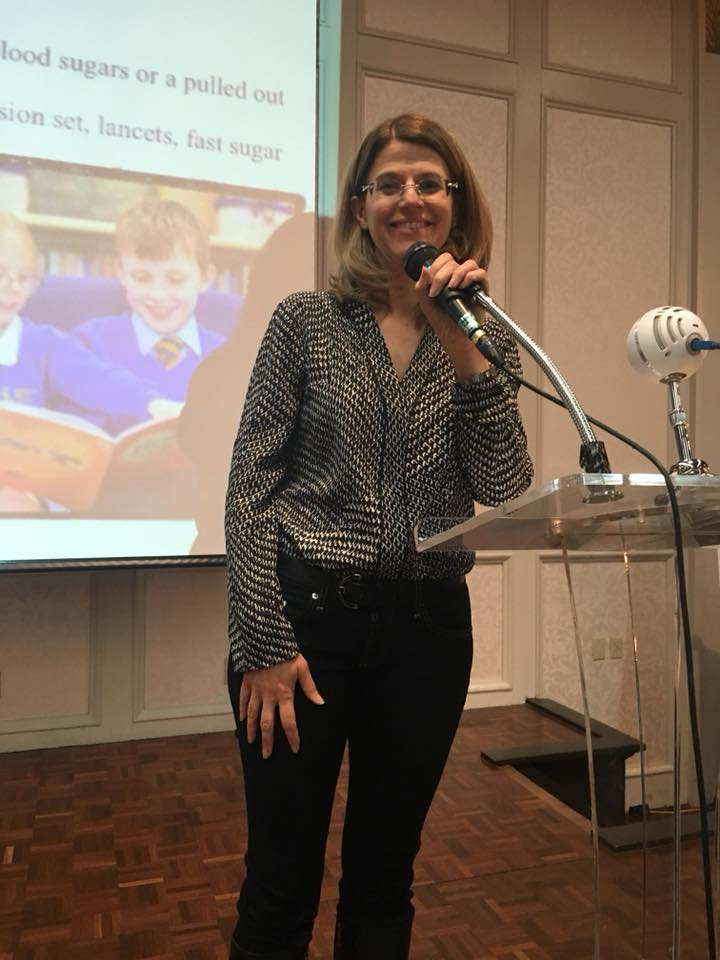 Lisa, we are so honoured and proud to be able to work alongside you, and we look forward to the great strides we will continue to make for this community!
I Challenge Diabetes is proud to be a leader in advocating for the safety and success of our T1D kids in schools. In honour of Diabetes Awareness Month, ICD's Diabuddies Tour hit the road in November 2017, spreading our message of support and empowerment to over 50 schools across Ontario and reaching upwards of 16,000 through our channels! During our presentations, our leaders also take the time to engage directly with school staff to answer questions and offer insight into how to best support children living with diabetes. We've received incredibly positive testimonial from all those involved, and are looking forward to building on this initial tour for the next school year.
Driving additional need for our KIS campaign, we've heard from numerous parents who run into barriers due to school board policy and procedure. We know PPM 161 requires schools to have updated diabetes policies in place, but have found that caregivers of these children are the ones that must take the initiative to start the conversation.
Many families and groups have made great strides in securing meetings with school board committees, and ICD is proud to be directly involved in that process with the TDSB.
In support of this, we hosted our first ever Parent/Child Self-Efficacy Workshop in January, which saw a huge turnout of over 100 people! Thanks to those who came out and offered their insight, talked about their challenges, and helped further the conversation on this ever so urgent topic.
While there is clearly much more work to be done, we are proud of the strides we are making with this Kids in Schools campaign. A big thank you goes out to all the dedicated parents, teachers, and volunteers who work every day to help improve conditions for children with T1D in schools. Together we will bring about the changes we need to see, and continue to set the example for our community!
You can donate and help support this objective by clicking the link below!
Our small team works everyday to ensure we can continue to run our programs serving the T1D community across Canada. We know the value of the impacts our leaders are able to make on participants, and our goal is to SUSTAIN and GROW.
Every dollar counts, and we are grateful for our current and past donors for all their support. One of the most effective ways to donate is by setting up a recurring donation. These help our organization become more sustainable in our ability to budget for incoming funds AND allow you to spread your donation out through the year.
NEW THIS YEAR: All recurring donors will be recognized on ICD's website as part of our ICD Diabuddy Club!
Any & all donations are eligible for tax receipts.
Our programs CONNECT peers living with T1D to each other and internationally acclaimed mentors. We CHALLENGE kids and adults with each activity to come up with strategies for diabetes management. We foster growth when you EXPLORE new places, new activities and the most important, when you see others deal with diabetes too, lead by our mentoring team.
Check out our event page to get the most up to date information for our upcoming events. We will be in BC and AB in the next few months so make sure to mark your calendars and register now!
---
Highlights:
West Coast Trail – 75km hike through BC's wilderness
Rockwall Expedition – 55km trail hike just 2 hours outside of Calgary
Bowron Lakes – Paddle and Portage one of the world's top paddling locations
Tobermory Adventure Camp – Hike a portion of the famous Bruce Trail
Diabetes Sports Camp – 3 weeks of camp in partnership with York University
Sometimes diabetes gives us an added reason to be afraid of adventure. Afraid you could make a mistake with diabetes and ruin everything for everyone. This story is the outcome of a life challenged by diabetes and the ability to do anything, probably even better than without T1D…
Chris Jarvis has lived nearly 24 years with type 1, his drive to manage diabetes came from his love of sport and is no stranger to making mistakes. Through this, he developed the right mindset to look around and figure out how to overcome ANY challenge. Making it to the Olympics in the sport of rowing was no easy feat, but luckily he found the tools that would make a huge impact on his ability to control his sugars. Wishing a low wouldn't happen was proven to be a failing method over and over.
Flashing forwards, last month's family vacation to Mexico held a burning desire to go white water rafting! With all the years of learning, here are a few things he did to set himself up for success! Believe it or not, there were three layers of protection, the things on him, the things left in the car, and another supply packed in a "drybag" to hold his extra supplies safe – it is waterproof and snaps right onto the boat! This trip down the Copalita is one of the most aggressive tourist routes in the world with 18 Class FOUR and 16 Class THREE rapids and over 30 Class TWOs. There are only 2 spots on the river where you were afforded a break and each are less than a minute unless you pull ashore! A tough 6 hour journey for any person, let alone someone managing diabetes; so let's talk prep!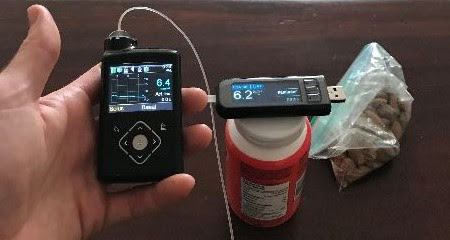 Chris uses 630G with combined sensor to keep track of sugars at a glance.

Insulin-Strategy
Chris has been using an integrated pump for over 10 years and has an array of strategies for exercise. He chose to use a big early breakfast option, a perfect choice as there was a 90 min BUMPY dirt road shuttle into the mountains. Since he ate about an hour before the car ride, this extra time allowed his stomach to settle for the road and his insulin to be mostly gone by the time they hit the water! The beauty of an insulin pump means is that users can reduce basal insulin significantly for exercise (Chris lowered 80% – 45 min before). With his sugars right in range, he added a 45 gram of carb snack without insulin to combat any residual insulin which tends to work 3-5 x stronger during cardio exercise for him. He took peeks at his 630G pump with an integrated CGM (see pictures) to see his plan unfold. His blood got as low as 4.5mmol and was corrected with 4 Clif Bloks (24g of carb) and fully suspended his pump for 2 hours… it was intense paddling! Throughout the 6 hours of paddling he stayed between 4.5 and 7.4 mmol. This type of control is not always possible for him, but he says it happens a whole lot more when he puts in the effort!
Body Gear
These sports are all about safety – everyone wore a helmet and lifejacket for this adventure. Additionally the guide told participants that their paddle is their life. He preached to never let go of it, and ran drills to practice that, along with demonstrations of saving a crew mate before the paddle started.  To Chris, his insulin pump was of that same caliber importance. Putting his infusion site just below his beltline, tucking the excess cord in and clipping the 630G insulin pump onto his waist he could see his sugars in under 2 seconds, he could adjust basal or bolus in under 10 seconds.  The Enlite CGM was placed on the back of his arm. (it's very important to check the tape and change or add more for an activity like this!) Last thing was a pack of Clif Bloks in his pocket – fast acting sugar that would not be hurt by getting wet, awesome to absorb in your mouth while exercising, and could be accessed from a pocket very quickly while paddling the white water!
Shuttle Gear
All the paddlers in Chris' boat brought some gear to be left behind in the shuttle vehicle; extra clothes, wallets/purses, snacks, and extra water bottles. In regards to diabetes, Chris brought a backup insulin pump site – if the rafting trip didn't rip it off, 6 people jammed in the back of a shuttle in the hot Mexican sun surely could!
Boat Gear
Sometimes you can feel like having to pack extra supplies is a drag… Chris has learned the opposite over and over again. Having his own dry bag was mind blowing for the other paddlers on this trip. They did ask a bunch of questions, but they got to experience the value of being self-reliant when we were putting the boat in the water and the guides had forgot the dry bag they had promised us. So Chris shared with the group to insure everyone had what they needed clipped safely onto the boat. While the 630G is waterproof, he packed a backup needle and insulin in case his infusion site was ripped off. Similarly, he packed a small blood test kit to back up the sensor, some Dex4, and was ready to troubleshoot diabetes in the midst of whitewater!
Chris reflects on the experience
"This rafting trip was epic with only two breaks. If you are at all unsure or nervous about managing diabetes, I'd encourage you not to miss out on most of life. If you like adventure, I know that if I were to ignore the times diabetes could go wrong, I'd struggle through a lot more and risk myself and others while doing so. I know… i've suffered!
So my strategy is to find what I want to do, and then use the motivation to get organized and prevent what I can while preparing for what I can't. In this case I was dreaming of white water rafting and hope this story explains some of the things I do to reduce risk and enjoy adventures! With practice and support, these things can take you no time at all! That's what ICD is all about; peers passing along ideas and practicing together. We would love to connect with you on one of our adventures, and would be happy to hear about the adventures that you've got planned!"
The above article is a paid promotion brought to you by Medtronic of Canada, however the opinions expressed in the article are explicitly those of I Challenge Diabetes and its content authors. 
Leadership Development Retreats help ICD grow – We asked Ainsley, a first time participant last year to tell her peers what that experience was like for her last year. Here's what she said:
"These words are so beyond thrilling to write. . .
We had such a blast at Jacksons Point last year and those returning with me are so excited to be making new memories at Camp Samac!
If you are coming for your first time, the first thing you should expect from any ICD event is openness and acceptance. You will never be judged or critiqued here, we are all working at our own pace and our own rates and that's okay.
You will never worry about being left out or having no one to talk to, we are all a family. We look out for one another and we always have each others backs.
Expect to come back from camp with a new view. You will be enlightened. You will be educated. You will be heard. Expect to come home dawning new memories and new experiences. If this is your first ICD event, this is a gate way to SO many opportunities.
Coming into camp, you may be nervous. You may be scared. You may not want to be here. By the end of this weekend, those feelings will change!
This weekend you are going to meet some of the most empowering youth and adults you'll ever get to meet.
This weekend, the  only thing that wont stop us is Type 1 Diabetes. This weekend is here to show you that you are capable of so many things and Diabetes doesn't limit that. You will not be at the same capabilities of others, and that's okay. We're not here to compare, but to share and empathize and understand one another.
839 Sheppard Ave W, Toronto, On, M3H 2T3

Charitable Registration Number: 821102712RR0001